Braj Mandal Parikrama
Dear Prabhu/Sister,
Hare Krishna.Dandvat Pranam.
Supreme Lord Sri Krishna smiled and said –
'Try to come to My Home-town of Braj-mandal, sometime.'……….
By the blessings of His Divine Grace Srila Bhakti Ballabh Tirtha Goswami Maharaj, we are pleased to announce that Sree Chaitanya Gaudiya Math is organizing 30 day long Braj Mandal Parikrama. (Circumambulation of Sri Braj Mandal)
The details:
(1st Oct to 1st Nov, 2017)
1- Mathura 1 Oct to 5 Oct
2- Govardhan 6 Oct to 12 Oct
3- Barsana 13 Oct to 18 Oct
4- Gokul Mahavan 19 Oct to 25 Oct
5- Vrindavan 26 Oct to 1 Nov
Devotees will travel by Bus to Kamyavan from Goverdhan on 9-10 October.
From Barsana to NandGaon on 15-16 October and on 17 October to Kosi.
Please note:
1. Devotees interested in participating in this Braj Mandal Parikrama, must reach Sree Radheyshyam Ashram, Bengali Ghat, Mathura on Saturday 30 September, 2017.
2. Upon arrival devotees must deposit Rs 7500/- per person in the office and get a reciept and badge from the office. This will cover staying, prasadam and Bus charges during parikrama.
3. There will be a group photo for all the devotees participating in Sri Braj Mandal Parikrama and Guru Puja on 1 November, at Kesi Ghat on the banks of river Yamuna.
For more details please contact:
Email – bhakti.vichar.vishnu@gmail.com
phone – 0 9316103966 (From India)
91 9316103966 (from outside India)
Haribol.
Sri Guru-kripa prarthi,
Bhakti Vichar Vishnu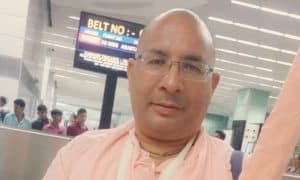 Sree Chaitanya Gaudiya Math
www.sreecgmath.org