Srimati Radha Rani
A brief description about Sri Radharani from Sri Brahmavaivarta Purana is as under:
In the arena of highest divine mellow in the abode of Goloka She, who appeared from the left hand side of Sri Krishna and got attracted and ran towards Him, is known as 'Radha'. Srimati Radha appeared from Sri Krishna and is His non-different manifestation. Hence She is dear-most to Sri Krishna. From the sweat pores of Sri Radharani million crores of cowherd girls and from the sweat pores of Sri Krishna, million crores of cowherd boys and cows appeared.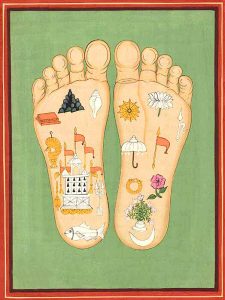 Once King Vrishabhanu was engaged in the worship of Yogamaya on the banks of river Kalindi in order to get a beautiful baby. Yogamaya Katyayini, being satisfied by his worship, gave the an effulgent egg to king Vrishabhanu and said, "I am subdued by your wife's devotion; give this egg to her. You will be blessed with a beautiful baby girl. As soon as king Vrishabhanu placed the egg in front of his wife Srimati Kirtida, the egg broke and Sri Radha rani appeared.
Regarding the appearance of Sri Radharani it is also said –
by the fruit of the penances of king Vrishabhanu on the banks of river Yamuna, Srimati Radharani self-manifested on an unprecedented hundred petal lotus flower in Yamuna. Sri Vrishbhanu was extremely pleased being blessed with a wonderful and most beautiful baby girl but saw that the eyes of the baby were closed. He was all the while unhappy internally for the baby being sightless.
One day his friend king Nanda along with his wife Srimati Yasoda devi and the child Sri Gopal came to his place. While Sri Vrishabhanu was narrating his sorrow to king Nanda one surprising incident took place. Baby Gopal crawled towards Srimati Radharani and touched her. She immediately opened her eyes. Sruimati Radharani had taken a vow that she would open her eyes for the first time only when Sri Krishna will be there. Hence as soon as Sri Krishna came she opened her eyes.
— Excerpt from the lecture given by His Divine Grace Srila Bhakti Ballabh Tirtha Goswami Maharaj (All India Sree Chaitanya Gaudiya Math) on September 05, 2011 on the day of Radhastami.